Frosty breath of winter settles across Canada, anticipation is building for the grand opening of the country's top ski resorts. Swaggering some of North America's most spectacular alpine landscapes, these resorts offer a winter playground for ski fanatics of all levels. We'll delve into the latest updates on the opening dates for Canada's premier ski destinations in November and December 2023.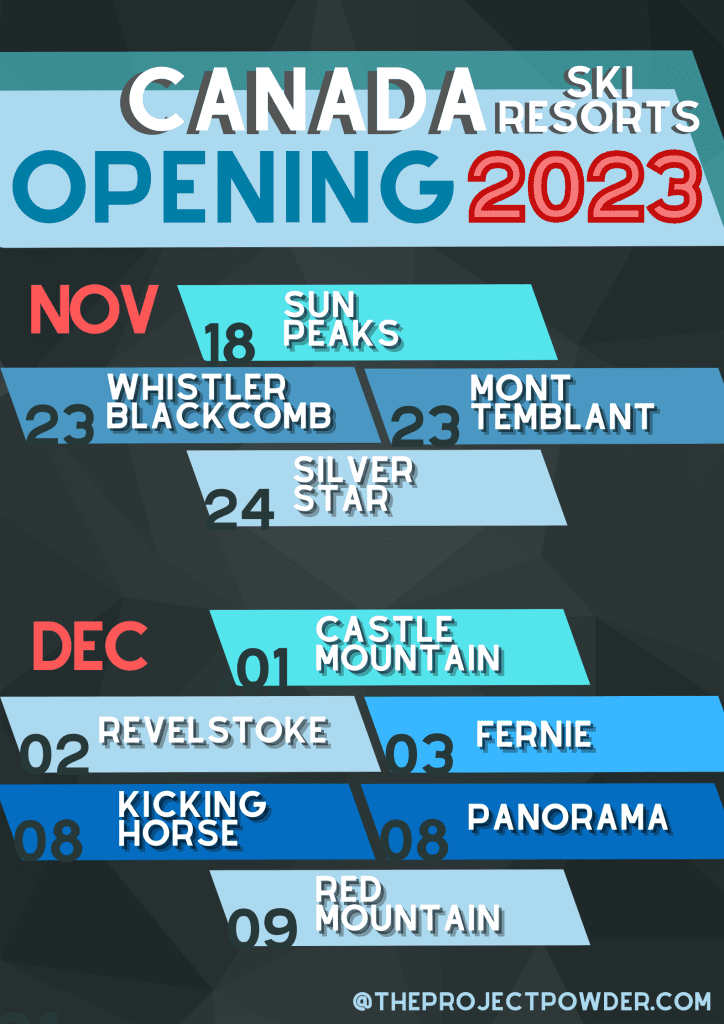 November 18: Sun Peaks – A Pinnacle of Winter Fun
Kicking off the ski season festivities on November 18, Sun Peaks beckons skiers to its expansive slopes. Nestled in the British Columbia interior, Sun Peaks promises a diverse range of terrain and a family-friendly atmosphere, making it an ideal destination for both seasoned veterans and newcomers to the world of winter sports.
November 23: Whistler Blackcomb – Where Majesty Meets Endless Adventure
On November 23, Whistler Blackcomb, North America's largest ski resort, opens its vast expanse of 3,307 hectares across two mountains. With over 200 runs, from gentle beginner slopes to challenging advanced steeps and thrilling chutes, Whistler Blackcomb offers an unparalleled skiing experience amidst breathtaking mountain scenery.
Mont Tremblant – A Quebec Gem with Panoramic Vistas
Also opening its slopes on November 23 is Mont Tremblant, situated approximately 80 miles north of Montreal. This Quebec gem treats visitors to stunning panoramic vistas of the Laurentian Mountains, creating a picturesque backdrop for a winter adventure.
November 24: Silver Star – Champagne Powder and Diverse Terrain
Silver Star, the third-largest ski area in British Columbia, opens its doors on November 24. Spanning an expansive 3,269 skiable acres, Silver Star lures skiers with the allure of champagne powder and a diverse range of terrain suitable for all skill levels.
December 01: Castle Mountain – Powder Delights and Steep Runs
Castle Mountain Resort, opening on December 1, is home to North America's only resort-based cat skiing operation, the Powder Stagecoach. Renowned for its long steep runs and an annual snowfall averaging 900 centimeters, Castle Mountain is a paradise for avid snow enthusiasts seeking a substantial winter experience.
December 2: Revelstoke – North America's Tallest Vertical Drop
Revelstoke Mountain Resort proudly opens its slopes on December 2, boasting North America's most substantial vertical drop at an impressive 1,713 meters. Thrill-seekers will find endless opportunities for challenging descents and breathtaking vistas.
December 3: Fernie & Kicking Horse – Expansive Terrain and Top-Tier Snowmaking
On December 3, Fernie Alpine Resort and Kicking Horse invite winter sports enthusiasts to explore their expansive terrains. Fernie boasts over 2500 acres of skiable terrain, 142 designated runs, alpine bowls, and advanced grooming equipment. Meanwhile, Kicking Horse's efficient lift infrastructure provides access to 1,375 hectares of inbounds terrain, offering a thrilling experience for adventurous skiers.
December 8: Panorama – A Vertical Wonderland with Hot Pools
Panorama, opening on December 8, showcases a vertical drop ranking among North America's Top 10. With delightful weather and the largest outdoor on-hill hot pools in Canada, Panorama promises a unique combination of adventure and relaxation.
December 9: Red Mountain Resort – Tradition Meets Expansion
Closing out the early winter openings, Red Mountain Resort, the oldest resort in Western Canada, welcomes skiers on December 9. Rooted in Canadian tradition yet boasting the most significant terrain expansion of the last decade, Red Mountain stands as a testament to the rich history of winter sports in the region.
Canada's top ski resorts are set to unveil their snowy landscapes to eager winter enthusiasts, offering a symphony of diverse terrains, panoramic vistas, and adrenaline-pumping adventures. From the grandeur of Whistler Blackcomb to the powder paradise of Castle Mountain and the historic charm of Red Mountain, these resorts promise an unforgettable winter experience. As the snow-kissed mountains come to life, grab your skis or snowboard and embark on a journey through the heart of Canada's winter wonderland. The slopes await, and the 2023 ski season is shaping up to be an extraordinary celebration of the great Canadian outdoors.
Disclaimer:
Ski resort opening dates are estimated and may be subject to change. For the most up-to-date information, please visit the official website of the resort.