The country's top ski resorts are gearing up to welcome snow fans for another season of powder-filled adventures. From the legendary powder snow of Hokkaido to the expansive trails in the stunning Appi Highlands, Japan offers a diverse array of ski destinations that cater to all skill levels. Explore the latest updates on the opening dates for Japan's top ski resorts in November and December 2023.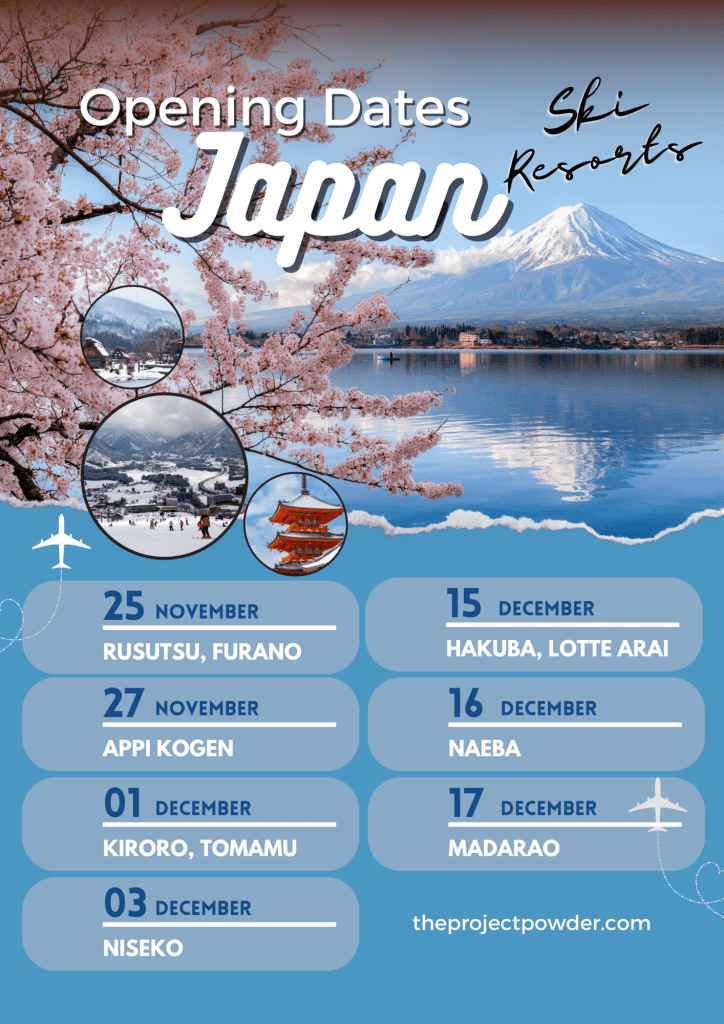 November 25: Rusutsu and Furano – Hokkaido's Powder Paradises
On November 25, the powder meccas of Rusutsu and Furano open their slopes to eager skiers and snowboarders. Rusutsu Ski Resort, located in Hokkaido, is renowned for its exceptional powder snow and variety of terrain. The resort spans three mountains – West Mountain, East Mountain, and Mount Isola – offering a total of 37 runs and 42 kilometers of exhilarating slopes. Furano, famous for its association with the FIS Alpine Ski World Cup and Snowboarding World Cup, beckons visitors with its long-standing tradition and challenging trails.
November 27: Appi Kogen – Breathtaking Scenery in the Appi Highlands
Situated in the stunning Appi Highlands, Appi Kogen opens its doors on November 27. With a total trail length of 45.1 kilometers, it stands as one of Japan's largest ski resorts. Beyond the thrilling slopes, Appi Kogen offers breathtaking natural scenery, creating an immersive winter experience for visitors.

December 1: Kiroro and Tomamu – Diversity in Terrain and Expansive Views
On December 1, Kiroro and Tomamu invite winter sports enthusiasts to explore their diverse terrains. Kiroro boasts an impressive selection of over twenty courses, catering to skiers and snowboarders of all skill levels. Tomamu, covering two mountains – Tomamu Mountain and Tower Mountain – is known for its expansive ski area and stunning views of the surrounding landscape.
December 3: Niseko – Interconnected Resorts and Winter Paradise
Niseko, opening on December 3, comprises four interlinked ski resorts collectively known as Niseko United. Grand Hirafu, Hanazono, Niseko Village, and An'nupuri together form a skier's paradise with an extensive network of slopes, breathtaking alpine scenery, and a wealth of outdoor adventures. Niseko is also renowned for its rejuvenating hot springs, adding a touch of relaxation to the winter experience.
December 15: Hakuba and Lotte Arai – Snowfall Abundance and Unique Skiing Experiences
On December 15, Hakuba and Lotte Arai open their slopes, showcasing abundant snowfall and unique skiing experiences. Hakuba boasts a total of nine ski resorts with over 200 runs, firmly securing its place as one of Japan's premier skiing locales. Lotte Arai Ski Resort, formerly known as Arai Ski Resort, offers a distinctive skiing experience with favorable proximity to the coast, enjoying an impressive average snowfall of 15 meters per season, making it a true paradise for powder enthusiasts.
December 16: Naeba – Seamless Connections and Japan's Longest Gondola
Naeba, seamlessly connected to the Kagura resort via the Dragondola, opens on December 16. The Dragondola stands as Japan's longest gondola, capable of transporting eight individuals at a time, providing seamless access to an expansive winter wonderland.
December 17: Madarao – Powder Spot with a Touch of Adventure
Closing out the early winter openings, Madarao welcomes winter enthusiasts on December 17. With its reputation as a well-known powder spot, Madarao fascinates the ski and snowboard community in Japan with a large ski area featuring over 45 trails, including powder and freestyle runs, as well as a snow park for those seeking a bit of adventure.
Japan's top ski resorts are ready to usher in another season of winter magic. As the snow-covered mountains beckon, it's time to grab your gear and embrace the thrill of Japan's top ski destinations in the winter of 2023.
Disclaimer:
Ski resort opening dates are estimated and may be subject to change. For the most up-to-date information, please visit the official website of the resort.