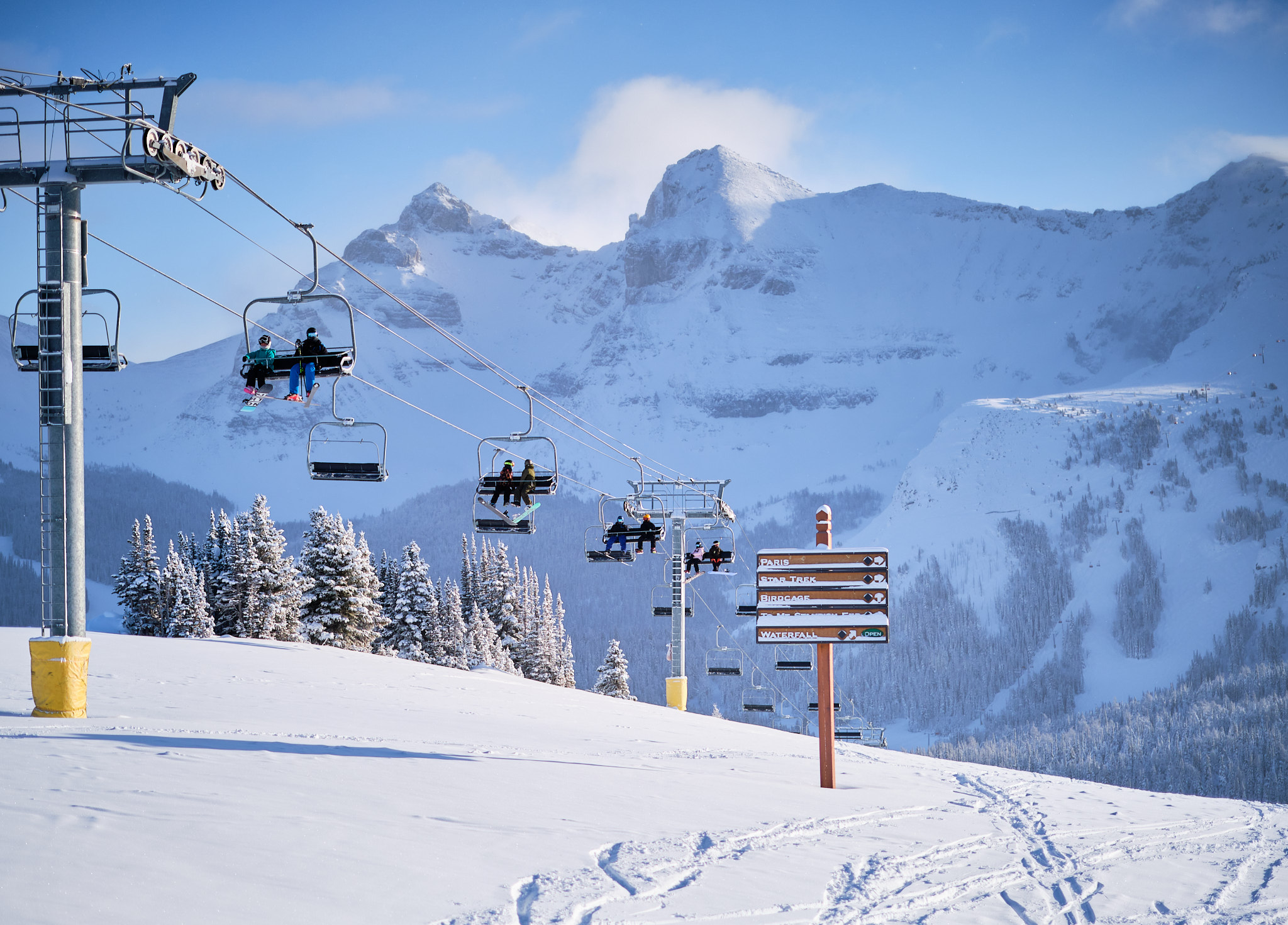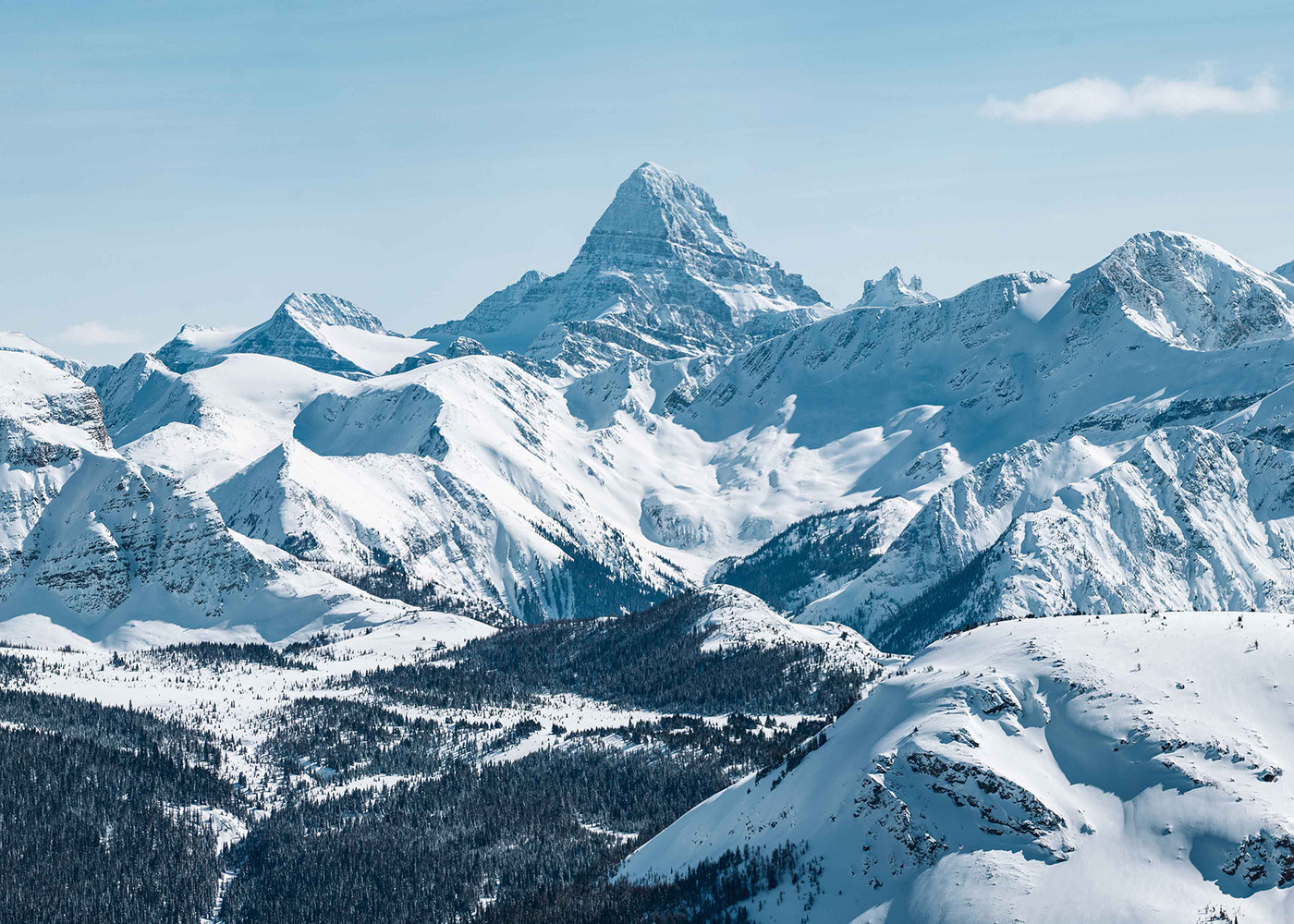 Sunshine Village - Trail maps
Alberta
Resort Maps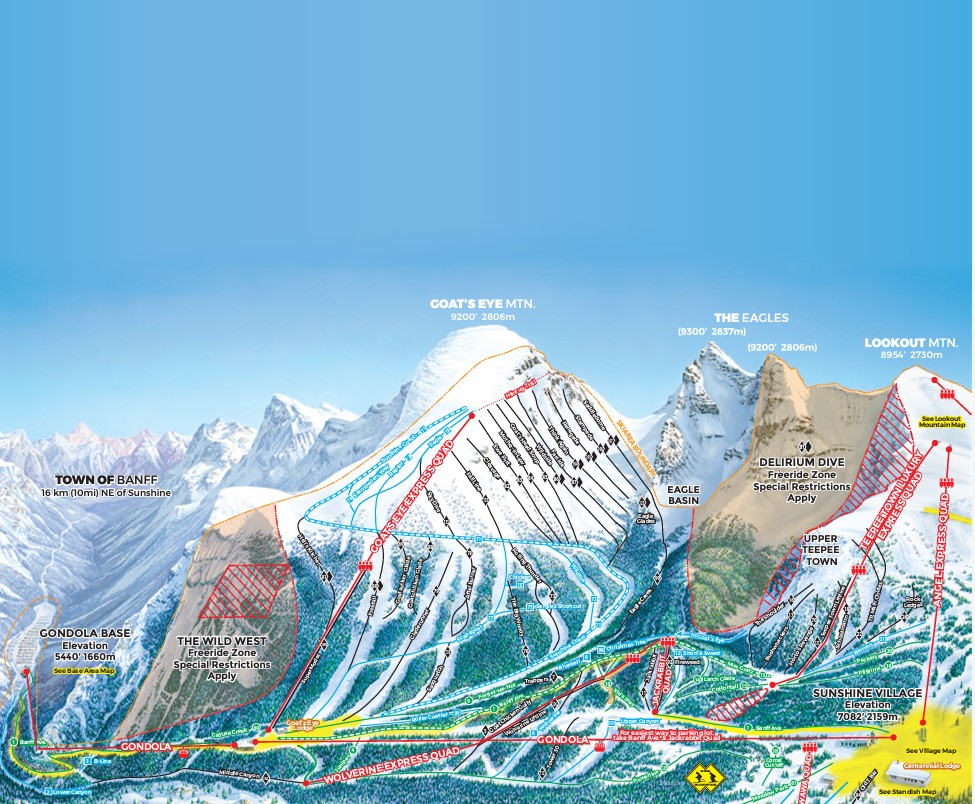 Goat's Eye Mountain Trail Map
Goat's Eye Mountain is the first stop on the Sunshine gondola. At Goat's Eye, skiers will find the Goat's Eye Express (our most challenging lift), Wolverine Express (a family favourite and a connector to Teepee Town LX) and Jackrabbit (a favourite of ski school instructors). When skiing Goat's Eye Mountain, you'll enjoy the steep, deep, and long runs off the Goat's Eye Express, and the playful, family-friendly terrain of Wolverine. If you're flying into Calgary from Vancouver, see if you can spot the runs of Goat's Eye Mountain out the airplane window!
Download Map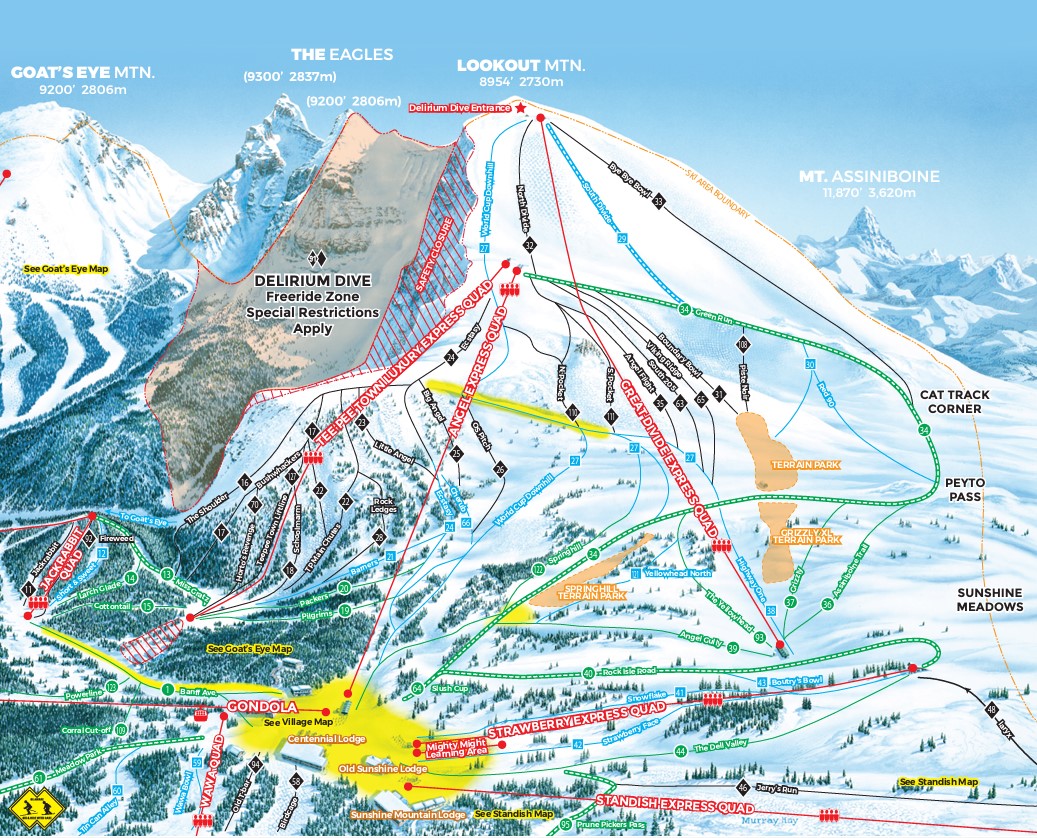 Lookout Mountain Trail Map
Lookout Mountain is famous for its unparalleled alpine skiing and extraordinary views. On Lookout Mountain, skiers and snowboarders can enjoy the runs of Teepee Town LX, Angel Express, and The Great Divide Express. On The Great Divide, skiers and snowboards will travel to an altitude of 8,900 ft., through the province of BC, and back to Alberta, all in one ride! For those skiers and snowboarders interested in riding Delirium Dive, the gate to the free ride zone is found at the top of Divide Express. With the wide open, above treeline runs of Lookout Mountain, skiers and snowboarders of all levels can enjoy the views of Mount Assiniboine, and find terrain that fits their ability
Download Map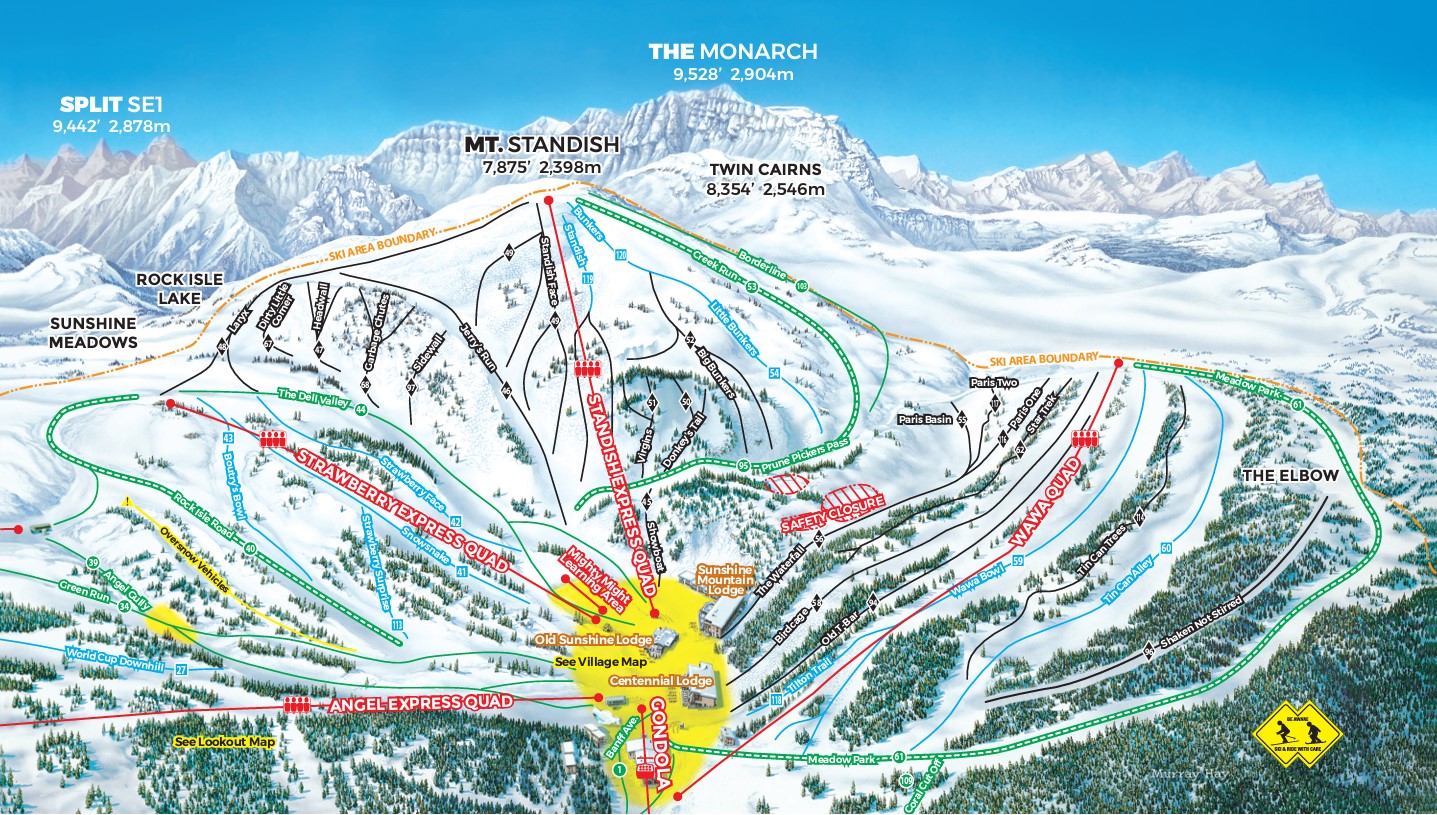 Mount Standish Trail Map
On Mount Standish, skiers and snowboards can play on the quick and fun runs of Standish Express, Wawa, and Strawberry Express. Standish Express is a local favourite, as the chair services some fun, natural terrain features and often captures wind blown snow. For an intermediate skier, you'll love Wawa Bowl and Tincan alley off of Wawa. Strawberry Express is our beginner chair, and features gentle blues and greens where new skiers can build confidence. For ski school guests, our three magic carpets are also found on Mount Standish.
Download Map
Navigate the slopes of Sunshine Village like a pro with our extensive collection of trail and village maps.
Snow Season
November - May
Resort Info
1 Sunshine Village Access Rd , Seebe, AB, Canada, Alberta
www.skibanff.com/
@sunshinevillage
Sunshine Village Quick Links
Snow & Terrain Statistics
| | |
| --- | --- |
| Top Elevation | 2730m |
| Base Elevation | 1658m |
| Avearage Snow | 9m |
| Skiable Terrain | 1359ha |
| Lifts | 12 |
| Gondolas | 0 |
| Marked Trails | 137 |
| Park | Available |
| Longest Run | 8km |
Trail Split for Ability Levels
| | |
| --- | --- |
| Beginner | 20% |
| Intermediate | 55% |
| Expert | 25% |